Craig Alexander performing street Magic at the Edinburgh Fringe Festival appearance on Channel 4.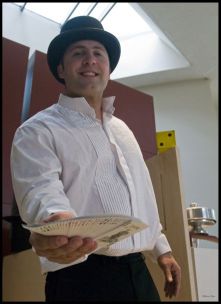 Alexander the Great has a wide range of close-up effects that are both amusing and spellbinding. Alexander the Great mingles with the guests at a wide variety of functions, providing stunning magic right under the audiences' nose and often using borrowed items suh as notes, watches and rings.
This form of intimate entertainment is ideal for Restaurants, Weddings, Corporate Events, Anniverseries, Fetes and Fairs.
Close-up magic is an ideal ice-breaker and provides a talking point for the guests and a lasting memory.