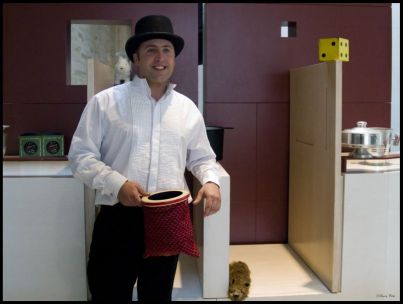 Alexander the Great Entertainments provide tailored entertainment that meets the needs of individual clients, catering for a wide range of age groups. We provide a colourful, fun-filled show that involves all the children, particularly the Birthday Child, and encourages full audience participation. It often includes juggling.
While a wide range of packages are offered, the two most popular are:
Package 1. 1 hour package consisting of 45 minutes of magic and 15 minutes of balloon-modelling.
Package 2. 2 hour package consisting of 45 minutes of magic, 15 minutes of balloon-modelling (whilst the children eat) and one hour of disco and games, including use of disco lights, bubble machine and limbo-dance competition.
Both these packages ensure that all children go home with a model balloon and the size of speakers and lights are varied depending on the size of the venue and whether the party is takng place in the client' house or a hall.
The second package ensures particularly good value for money as parents only need be concerned with providing food for the party as all the entertainment needs are catered for by Alexander the Great.
* Please note the inclusion of items such as limbo-dance, fog and bubble machines shall vary depending on the nature and possible limitations of the venue at which we are performing.